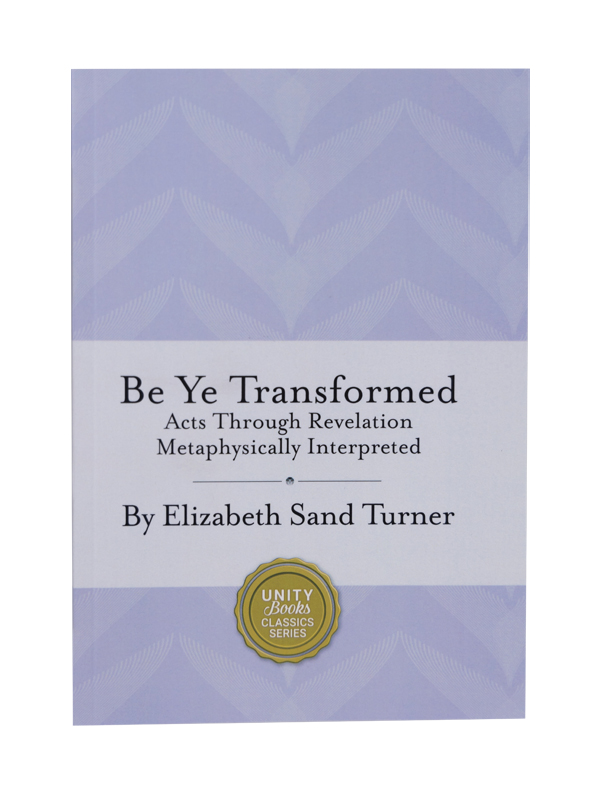 Be Ye Transformed
This third volume of Elizabeth Sand Turner's Bible interpretation brings new meaning to Acts, the epistles, and Revelation. Transform your life by learning to live by metaphysical principles in this classic favorite.

Click here for e-book version.
Product Description
Acts Through Revelation Metaphysically Interpreted

This third volume of Elizabeth Sand Turner's trilogy of Bible interpretation will bring new meaning to the metaphysical interpretation of Acts, the letters of Paul, and Revelation. Known for her two other classics, Let There Be Light and Your Hope of Glory, Turner will show you how to transform your life by learning to live by Christian principles. This book, based on Charles Fillmore's metaphysical Bible interpretation, covers the early church, the ministry and epistles of Paul, the General Epistles, and the Revelation to John.

Whether you are a Bible scholar or one who seeks day-to-day inspiration, this enlightening volume will raise your consciousness and enhance your metaphysical knowledge.


ELIZABETH SAND TURNER (1897-1979) served Unity as education director of the ministerial school, as a field lecturer, and as a mininster of churches in Nashville, Tennessee, and Fort Lauderdale, Florida. She was ordained in July 1936.

Softcover, 285 pp.
Product Details
Pages: 285
Isbn10: 0-87159-325-4
Isbn13: 978-0-87159-325-2
Author: Elizabeth Sand Turner
Weight: 0.631
Format: BKS