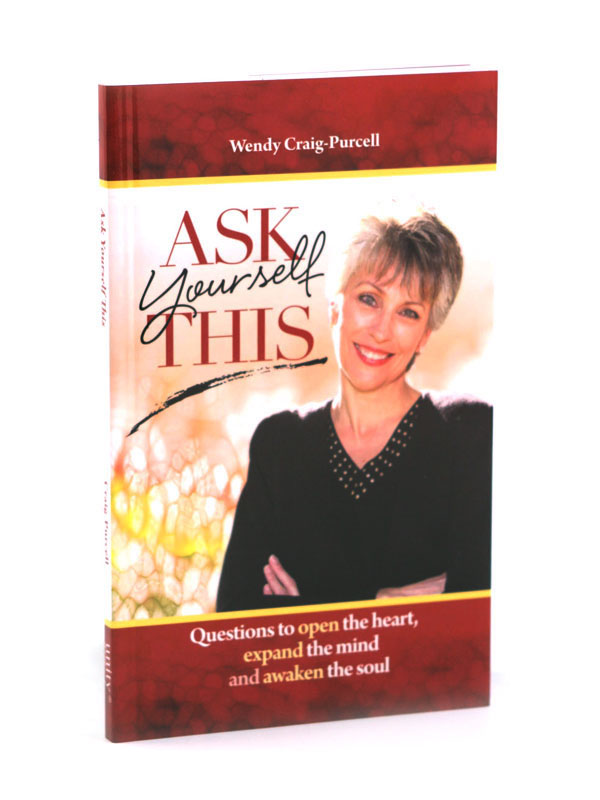 Ask Yourself This!
Awaken your inner genius through a series of deep, self-reflective questions. Your unique answers will help you create a more spiritual vibrant lifeùfor your greatest good and the well-being of others.

Click here for e-book version.
Product Description
Questions to Open the Heart, Expand the Mind and Awaken the Soul

"On these pages are potent tools for discovering your inner greatness, along with the inspiration and motivation to propel you into a life of authentic being. Wendy's mindful, approachable work is filled with valuable exercises and examples from her students, making this a book that will guide its readers on their journey from limiting thought forms to self-empowerment and self-love. The result is a return to a consciousness of wholeness and joy."
--Michael Bernard Beckwith, author of Spiritual Liberation: Fulfilling Your Soul's Potential

Living a spiritual life is not about claiming a religion or professing a creed. As Rev. Wendy Craig-Purcell superbly demonstrates, you can live a spiritually vibrant life by discerning the truest essence of yourself and awakening the genius within. The book provides key questions intended to help readers uncover often-overlooked aspects of their spiritual natures and live more meaningful lives.

Ordained as a Unity minister in 1980, Wendy Craig-Purcell is the founding minister and CEO of The Unity Center in San Diego, a spiritual community of 1500 members. She has been active for many years in the Association for Global New Thought and currently serves as vice president of its Leadership Council. She is the recipient of the Gandhi Nonviolence Award from the Tariq Khamisa Foundation and has been inducted into the Martin Luther King Jr. Board of Preachers Hall of Fame. Wendy lives in San Diego with her husband, John Purcell, and their two children, Johnathan and Jennifer.

Also available in audiobook format.

Softcover, 135 pp.


Product Details
Pages: 150
Author: Wendy Craig-Purcell
Weight: 0.331
Format: BKS