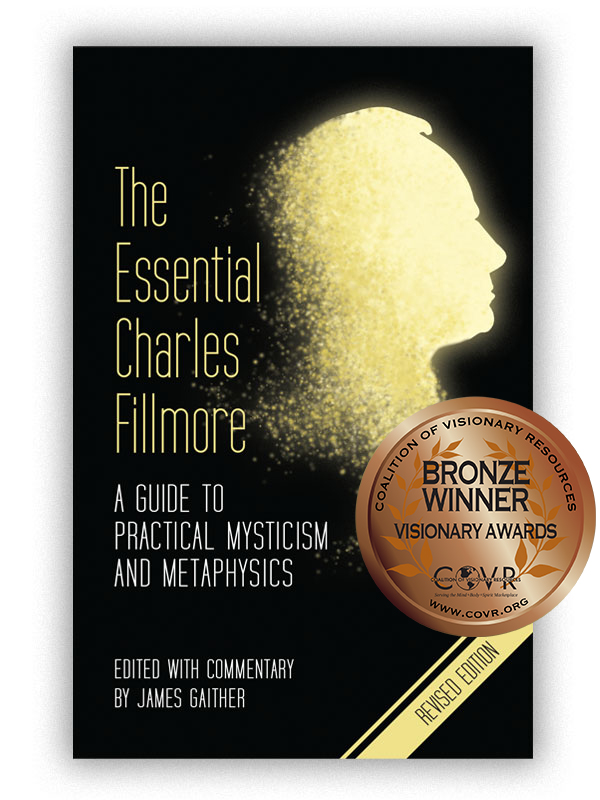 Essential Charles Fillmore: A Guide to Practical Mysticism and Metaphysics
A revised edition of the popular compilation and exploration of Charles Fillmore's most significant teachings. Includes new commentary and streamlined sections to reveal what is most essential about Fillmore's writings and talks.

Click here for e-book version.
Product Description
The Essential Charles Fillmore: A Guide to Practical Mysticism and Metaphysics is the 2021 Bronze Winner (Anthologies) of the COVR Visionary Awards!

To create The Essential Charles Fillmore, Unity minister James Gaither curated Charles Fillmore's most significant teachings and added his own explanations and updates.

In this revised edition, Gaither has written new commentary and streamlined the sections from Fillmore, leaving only what is relevant, accessible, and, indeed, essential to understanding the man, the metaphysics, and the theology of his remarkable mind.

The selections fully answer questions about Fillmore, such as "Did he change his mind?" or "What did he actually believe about regeneration?" and "Is Unity Christian?" Of course, Charles Fillmore wanted his teachings to be practical, so he goes beyond mere doctrine to applications that can transform lives.

Charles Fillmore (1854–1948) was an American mystic with astonishing, even radical, ideas about God, the divine power of human beings, and the spiritual principles that govern the universe. His lifetime spanned the Civil War, two world wars, the Great Depression, and the Spanish flu pandemic, yet he never wavered in his belief in the power of our minds and the ever-present strength of the Divine.

His talks and writings were gathered into many books that are the foundation of the Unity spiritual movement, which began in 1889.

Gaither has extracted the best of Fillmore's teaching for this fascinating compilation.

James Gaither was ordained a Unity minister in 1979. He completed his master's degree in philosophy and a doctorate in theology. He has taught in Unity ministerial and spiritual education programs for more than 25 years and served as minister in Unity churches for more than 12 years, including as Rev. Eric Butterworth's successor at Unity Center of New York City. Gaither also served as president of Holos University Graduate Seminary and director of Academic and Student Affairs for Unity Worldwide Spiritual Institute.

He has published two books: The Essential Charles Fillmore (Unity Books, 1999) and The Hidden Realm of God: The Historical Jesus and His Healing Philosophy (James Gaither, 2015). Gaither has been a regular contributor to Unity Magazine® for 40 years. He cohosted one of the first weekly programs on Unity Online Radio. He is a recipient of the Charles Fillmore Award for Visionary Leadership from Unity Worldwide Ministries.

Softcover, 360 pp.
Product Details
Author: Gaither, James
Format: BKS