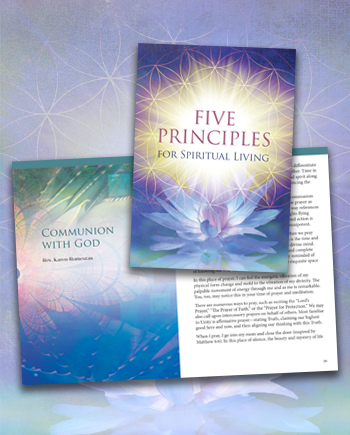 Five Principles for Spiritual Living—Downloadable Version
Product Description
Living a spiritual life stems from understanding a few universal principles that are available to us all.

The Unity booklet, Five Principles for Spiritual Living, includes articles from Unity ministers and New Thought writers who are doing exactly that—trying to understand and practice these principles—with remarkable results.

Describing how they have used universal laws to create the lives they want, each writer explains how you can include these teachings in your spiritual practice too. You will discover:
• What it means to live in true oneness
• How to accept your own divinity
• How to focus your thoughts to create your reality
• How to remain in constant contact with the Divine through prayer and meditation
• What it means to live the Truth you know

Each article ends with a prayer and affirmation to incorporate into your quiet time.

These spiritual truths have guided human existence for thousands of years. Put into practice, they have the power to change lives.