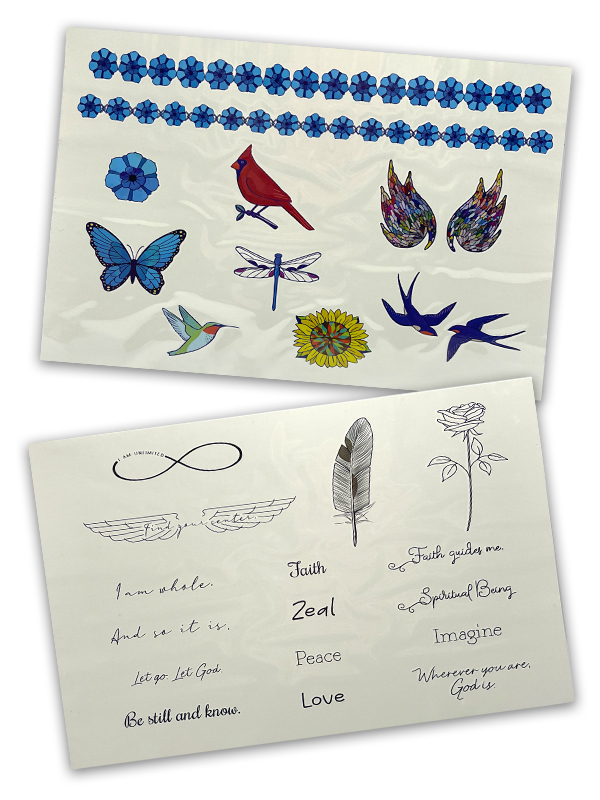 Here and Now Wearable Affirmations
Take your affirmations with you wherever you go with temporary tattoos from Unity! Express your divine spirit with Here and Now Wearable Affirmations.
Product Description
Express your divine spirit with Unity temporary spiritual tattoos! These inspirational tattoos feature both lettering and imagery designs, making them the perfect wearable affirmation for you, a friend, or the guests at your next event.

Simply looking at a beautiful image or word can serve as a powerful reminder, helping you to reflect on your spiritual journey and attract more abundance into your life. But you don't need to commit to a permanent tattoo to take your affirmations with you!

These temporary tattoos come in a variety of designs, including lettered tattoos featuring affirmations and prayer as well as images of birds, flowers, and beloved Unity symbols. Place one somewhere secret as an addition to your daily prayer practice, or share your affirmation with the world.

The lettered tattoos, which feature both cursive and typewriter font styles, include the closing line from James Dillet Freeman's "Prayer for Protection" ("Wherever you are, God is!") and affirmations for the Unity 12 spiritual powers.

The imagery tattoos include symbols and icons of nature, spirituality, and the beautiful Unity Village campus. Enjoy designs like a butterfly, sunflower, hummingbird, Unity prayer wings, and more. Each is rendered with a beautiful watercolor treatment and dark line work.

Two sheets, each 5.75" x 8.25"
Product Details
Format: OTH