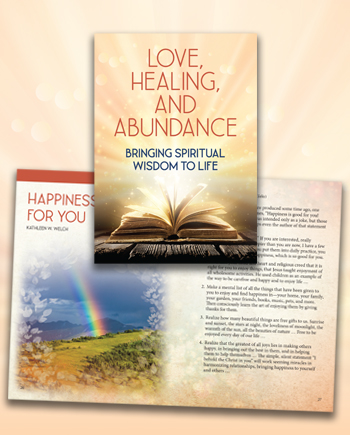 Love, Healing, and Abundance: Bringing Spiritual Wisdom to Life - Downloadable Version
Product Description
Spiritual principles do not change but can be expressed in new ways from generation to generation. Teachings handed down for centuries are still alive and relevant to us now.

This booklet from Unity, Love, Healing, and Abundance: Bringing Spiritual Wisdom to Life, pairs the insights of legendary Unity writers from past decades with today's Unity teachers and ministers. Spiritual language has changed throughout the years, but the teachings remain true and can be lived through us today.

Principles are not so much lofty ideas as practical tools to help you create the life you want.

The collection includes essays on:

• Love
• Healing
• Abundance
• Gratitude
• Prayer
• Faith
• Trust
• And more ...

Together, the classic and contemporary interpretations will inspire you on your ever-evolving spiritual path.