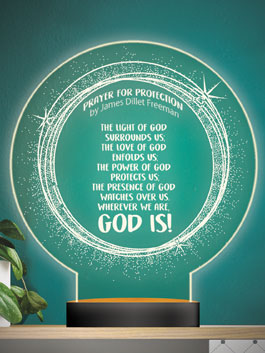 Prayer for Protection Lamp
This 8-inch acrylic lamp emits a soft glow, illuminating the words of "Prayer for Protection", James Dillet Freeman's beloved poem.
Product Description
Etched with the words of James Dillet Freeman's beloved poem, the "Prayer for Protection" Moon Lamp is a beautiful, modern, 8" clear acrylic lamp. The soft glow of this LED lamp is perfect to illuminate dark spaces with its gentle words of affirmation.

Let the light of God surround you as you fill your dark corner with inspiration.

Perfect for meditation rooms, church or school classrooms, quiet prayer altars, or nurseries, this soft light illuminates the timeless "Prayer for Protection." The prayer lamp can be set to change colors or set it to a favorite.

Did you know? Apollo 11 astronaut Buzz Aldrin carried the "Prayer for Protection" to the moon with him. Inspired by the 50th anniversary of the Apollo 11 moon landing, the out-of-this-world lamp reminds us of the key teachings of the verse itself:

The light of God surrounds us;
The love of God enfolds us;
The power of God protects us;
The presence of God watches over us.
Wherever we are, God is!


The Prayer for Protection Moon Lamp has become one of our most popular items.

Click below for an instructional video.




Prayer Lamp Features:
• Clear (see-through) acrylic etched lamp face protected by removable film*
• Plastic base with LED bulb that is safe and cool to the touch.
• Seven-color cycle. Choose a favorite: white, red, green, dark blue, yellow, purple, and light blue.
• Easy touch on/off button on base of lamp.
• 8" tall and 5.25" wide.
• Weight is less than one pound.
• Battery operated (3AA batteries NOT included) or,
• Operate on wall socket power with enclosed USB charger cord. (see image below)
• Wall plug charger cube NOT included. (See image below)


*How to remove the lamp's protective film:
Use a fingernail to loosen a corner of the edge of the film. Gently lift the film away.
Product Details
Weight: 0.563
Format: OTH