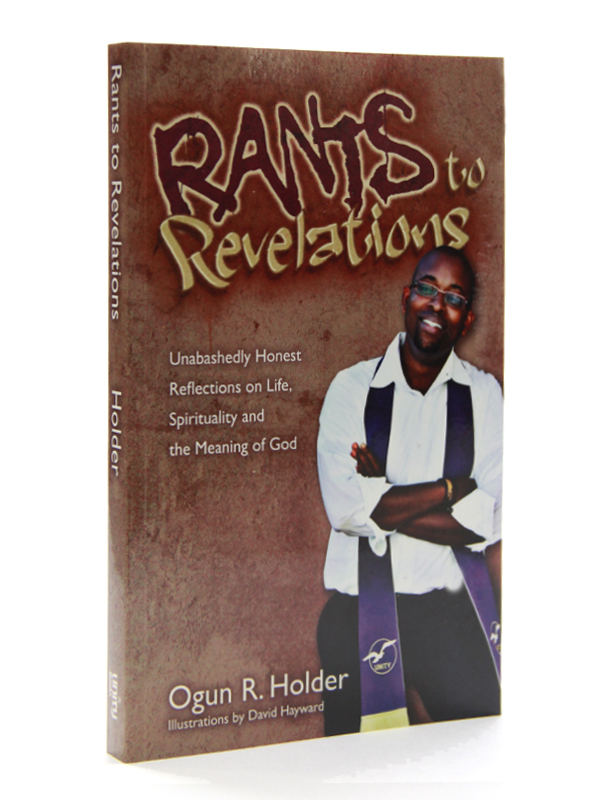 Rants to Revelations
Holder's journey includes a pious childhood, a teenage rebellion, and a collegiate crisis of faith. He hit a dead-end in his 30s before paving a new path to divine self. It's a path he's still walking.

Click here for e-book version.
Product Description
Unabashedly Honest Reflections on Life, Spirituality, and the Meaning of God

Ogun Holder knew full well the Bible story of Jonah and the whale. His intellectual understanding of the tale led him to believe that running from God was futile. But because he had never run from God before, he thought he'd try it anyway. Spoiler Alert: It didn't work.

Holder's journey begins with a pious but questioning childhood filled with mandatory church attendance and boisterous congregants. His road leads to a teenage rebellion, and then to a collegiate crisis of faith. He hit a dead end in his 30s as a responsible grown-up--until he paves a new path to Divine self. It's a path he's still walking.

Readers will relate to the honesty and humor in the mash-up of emotions, ideas and experiences Holder shares about parenting, spirituality, relationships and theology. When taken to heart, these "rants" might, in fact, lead you to your own revelations.

Rev. Ogun Holder is the cofounder of project_SANCTUS—a safe, brave online space to discover and be our holiest self, and in so doing, together, create a world of equanimity, justice, and love for all. He is an ordained Unity minister and holds certifications in spiritual coaching, grief and bereavement counseling, and the Enneagram.

He currently writes the "Love and Justice for All" column for Unity Magazine®, an exploration of justice as a spiritual practice. Ogun is one of the hosts of Pub Theology Live, a weekly podcast on life, culture, faith, meaning, and identity. He is the cohost of With Love and Justice for All, as well as The Evolving Enneagram Interspiritual Podcast.

Softcover, 175 pp.
Product Details
Author: Ogun Holder
Weight: 0.681
Format: BKS