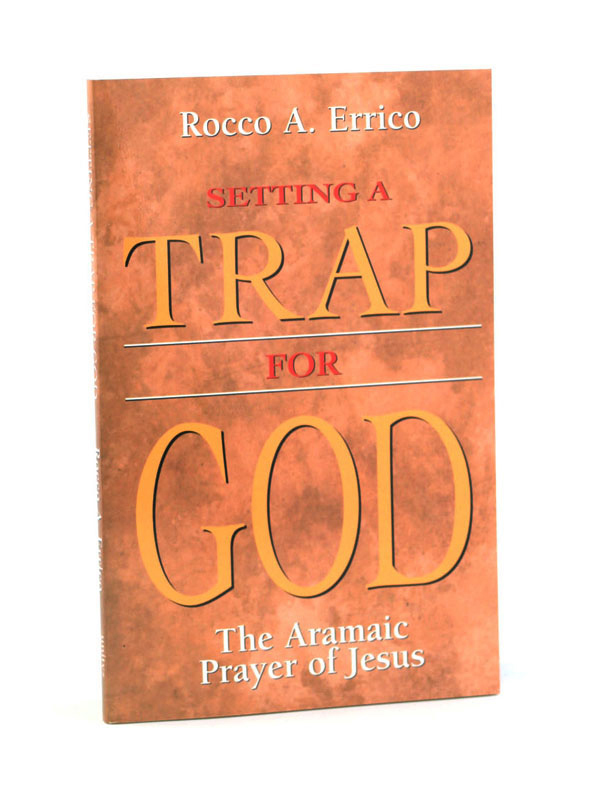 Setting a Trap for God
The Aramaic word for prayer means to set your mind like a trap to capture the thoughts of God. Dr. Rocco A. Errico is an authority on the Aramaic language and ancient Semitic culture.

Click here for e-book version.
Product Description
The Aramaic Prayer of Jesus

'Prayer' ... setting your mind like a trap so that you may catch the thoughts of God.

What is prayer? What exactly does it mean? What does prayer accomplish?

Dr. Rocco A. Errico answers these questions about prayer through this revised and expanded edition of his popular Ancient Aramaic Prayer of Jesus--the Lord's Prayer. He focuses on the original Aramaic manuscripts, the ancient culture of the Middle East, and its Aramaic language of two thousand years ago. Errico presents definitions for words such as our Father, hallowed, daily bread, temptation, evil, and amen from the linguistic and cultural viewpoint of the era. You will learn about the eight spiritual attunements within the prayer that strengthen your connection with God. Most important, Errico gives you a feeling for what Jesus said as he spoke this powerful message in his native tongue and what those words mean today.

Discover the way of peace, health, prosperity, and understanding as you learn about the true meaning of prayer and how to "set a trap" for the inexhaustible power of God!

Dr. Rocco A. Errico is an internationally known authority on the Aramaic and Hebrew interpretation of the Bible and the ancient Semitic culture. He holds a doctorate in letters from the University of Theologians (The Apostolic Succession of Antioch and the Eastern Church-American See), doctorates in philosophy and sacred theology from the School of Christianity, Los Angeles, and a doctorate in divinity from St. Ephrem's Institute, Sweden. Dr. Errico is founder and president of the Noohra Foundation (noohra, is the Aramaic word for "light") and author of The Mysteries of Creation: The Genesis Story, Let There Be Light: The Seven Keys, and Treasures From the Language of Jesus.

Softcover, 124 pp.
Product Details
Pages: 124
Isbn10: 0-87159-124-3
Isbn13: 978-0-87159-124-1
Author: Rocco Errico
Weight: 0.4
Format: BKS