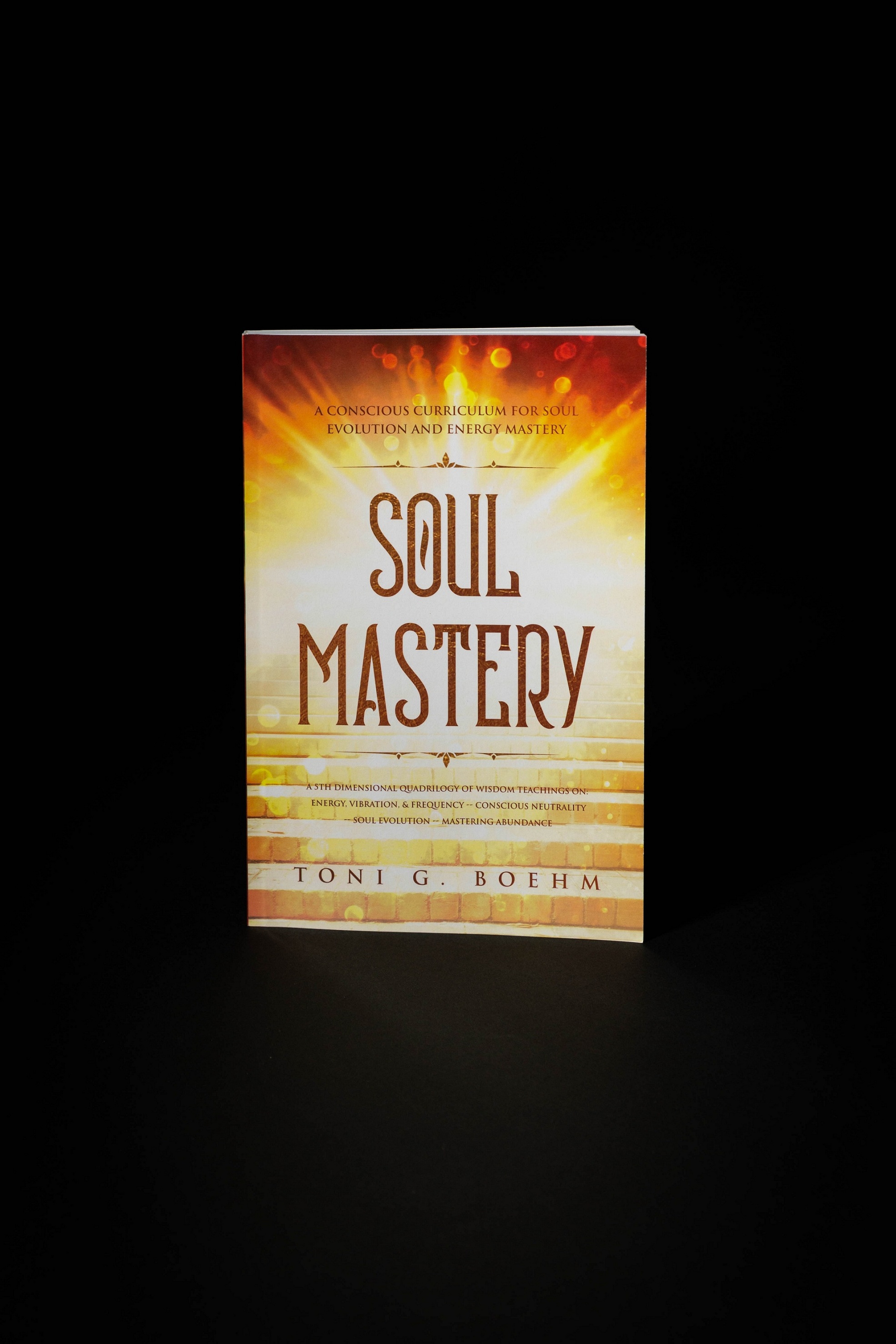 Soul Mastery
A template for conscious soul evolution and energy mastery, Soul Mastery includes wisdom teachings on energy, vibration, & frequency; conscious neutrality; soul evolution; and mastering abundance.
Product Description
A 5TH DIMENSIONAL QUADRILOGY OF WISDOM TEACHINGS ON: ENERGY, VIBRATION, & FREQUENCY -- CONSCIOUS NEUTRALITY -- SOUL EVOLUTION -- MASTERING ABUNDANCE

In an unexpected moment of synchronicity (synchro-divinity). I stumbled across these words by Nikola Tesla. "If you want to know how the Universe works, think in terms of energy, vibration, and frequency." As I read them, a spark ignited deep within me, and I was ablaze with the idea of initiating a discovery of their deeper meaning, metaphysically.

Woven throughout the pages of this book is a result of that discovery; a template for conscious soul evolution and energy mastery. The template is a quadrilogy--a group of four--wisdom teachings that are designed to unfold a conscious and creative soul growth process in you. This is not a learning process, it is an energetic absorption process that will support you in moving through your journey of awakening and energy mastery. A you engage, absorb, assimilate, transform, and integrate the new revelations and energetic transmissions held within the quadrilogy; know that you will always experience what you need, in the way you need it, that is how the process works--trust it!

As you consciously engage with the tempate you will discover how the quadrilogy, when seen from a metaphysical and mystical perspective, opens the way to new levels of higher dimensional awareness and energy mastery. Remember, dimensions are not places or locations they are levels and bandwidths of frequency, that you align with. It's all energy and energy doesn't lie!

The quadrilogy creating the conscious curriculum for Soul Mastery includes:
1. Energy, Vibration, & Frequency
2. Conscious Neutrality
3. Soul Evolution
4. Mastering Abundance.

Toni G. Boehm is an author, nurse practitioner, certified organizational coach, minister, "Shamanessa," and master facilitator of energy.

Softcover, 215 pp.
Product Details
Pages: 215
Author: Boehm, Toni G.
Weight: 0.665
Format: BKS