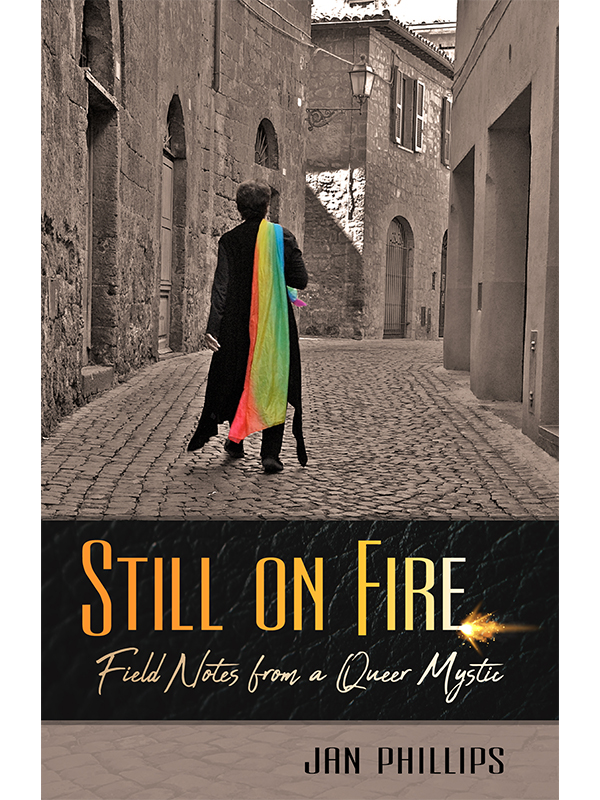 Still on Fire: Field Notes from a Queer Mystic
Still on Fire is a memoir of religious wounding and spiritual healing, of judgment and forgiveness, and of social activism in a world that is in our hands. Phillips traveled the globe on a one-woman peace pilgrimage, raised the consciousness of women, faced her privilege on a trip to India, and is working to dismantle structural racism.

Click here for e-book version.
Product Description
New from Unity Books!

Still on Fire is another visionary book from thought leader Jan Phillips, an evolutionary work that connects spiritual consciousness with global action. A prophetic work of prose, prayer, and poetry.—Deepak Chopra, M.D.

Jan Phillips was a devoted Catholic who wanted nothing more than to be a nun and who joyously entered the convent at 18. Two years later, she was dismissed for "a disposition unsuited to religious life, with excessive and exclusive friendships." She was lesbian. She had always known it.

"It was being homosexual that made me want to kill myself [at 12]. As far as I knew, there was nothing worse than being queer. They were perverts, sinners, hated by God, hated by just about everyone. Lezzies, bull dykes, fags, queers, lesbos—all damned, and there I was, one of them."

Still on Fire is a memoir of religious wounding and spiritual healing, of judgment and forgiveness, and of social activism in a world that is in our hands. Phillips traveled the globe on a one-woman peace pilgrimage, raised the consciousness of women, faced her privilege on a trip to India, and is working to dismantle structural racism. Her Livingkindness Foundation supports schoolchildren in Nigeria.

"Any spirituality that does not bring about more justice, more social awareness, more right action in the world is a lame and impotent excuse for faith … My action for justice is my spirituality."

She tells the story of her life with humor and compassion, sharing her poetry, songs, and photos along the way.


Watch the Still on Fire online event with Jan Phillips and Ellen Debenport.

Watch the trailer for Still on Fire: Field Notes from a Queer Mystic.


Jan Phillips facilitates workshops throughout the U.S. and Canada using her music, videos, and poetry to keep the heart and brain connected.

She has been a writer and photographer since the mid-1970s, and her work has been published in The New York Times, People, Christian Science Monitor, Ms. magazine, Parade magazine, Utne Reader, The Sun Magazine, and National Catholic Reporter.

Phillips is the author of 10 other books, including No Ordinary Time (Livingkindness Foundation, 2011) andThere Are Burning Bushes Everywhere (Livingkindness Foundation, 2016).


Watch the author talk about Still on Fire.


Praise for Still on Fire

I love this funny, heartbreaking, believable voice suggesting that not only her but our own spiritual journey is a collective one now. That we're caught up together in an evolutionary moment, uniting us with our living Earth and each other.—Joanna Macy, A Wild Love for the World: Joanna Macy and the Work of Our Time

Wow! I couldn't put this down. Jan Phillips' courage pulsates through the pages of her spiritual memoir Still On Fire. This is a powerful book by a powerful woman and written for readers who would cultivate a similar power in themselves.—Rabbi Rami Shapiro, Surrendered

Cast out of a convent as a young queer woman, this is a contemporary pilgrim's tale toward infinite sweetness of energy both earth and humanity. Think of it as discovering the Northern Lights as a new sanctuary for the soul.—Elizabeth Birch, former Executive Director for the Human Rights Campaign

This book is a moving story of transformation and spirituality. Thanks be to God, the attitudes of Catholics toward LGBT people have changed over the last three decades. And much of that thanks goes to prophetic people like Jan Phillips for showing us that the heart of any religion is spirituality. Read this book! This narrative of conversion will help you to see the priestly, spiritual person you are!—Jeannine Gramick, Sister of Loretto and a co-founder of New Ways Ministry, a Catholic LGBTQ organization

Please read this beautiful book and embrace the vital purpose of protecting and proclaiming what the world needs from all of us—the glory and healing power of our spiritual radiance.—Dr. Roger Teel, minister emeritus, Mile Hi Church, Denver

Like the beauty of a classic symphony, the twists and turns of Phillips' spiritual journey rises and falls with power, passion and emotion. Still On Fire is both deeply personal and broadly applicable as it dares the reader to look within themselves to find their own light and never let it dim.—Rev. Wendy Craig-Purcell, Unity Center San Diego


Softcover, 200 pp.

Book, LGBTQIA+, Faith, Inspiration, Award
Product Details
Pages: 271
Author: Phillips, Jan
Format: BKS