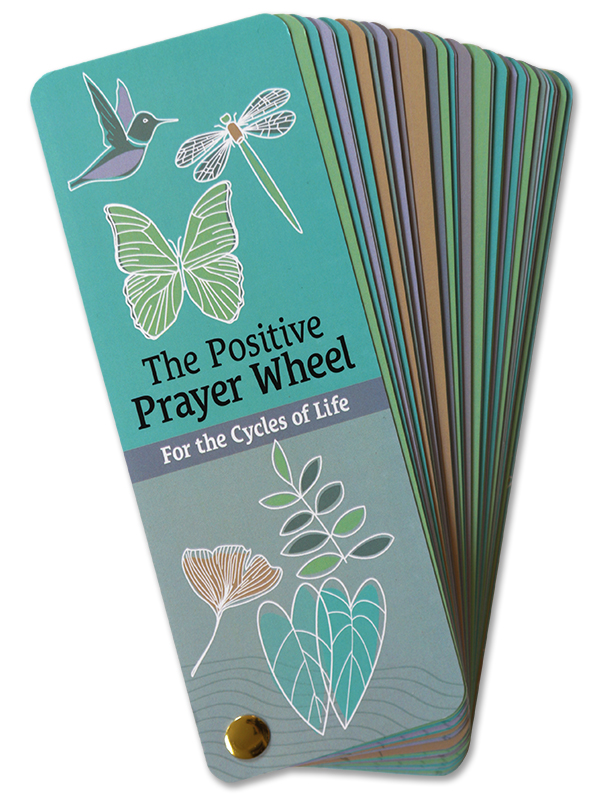 The Positive Prayer Wheel - For the Cycles of Life
50 affirmations to honor many of life's biggest milestones and moments. The handy swivel deck makes it easy to take these positive prayer cards with you wherever you go.
Product Description
New from Unity Books!

These 50 affirmative prayers and positive blessings honor many of life's biggest milestones—and the cycles of your life. This convenient swivel deck of prayer cards is a perfect guide for your prayer practice, a meditation ritual, or just a positive moment during your day.




How can I use The Positive Prayer Wheel for everyday prayer? Take The Positive Prayer Wheel wherever you go. It's perfect for everyday prayer inspiration, meditative reflection, or to explore and share blessings for specific concerns or milestones.

Choose a specific message or category or pick a card at random to support your prayer practice at home or wherever you are. Use the cards for personal reflection or for a group meditation or discussion.

Where can I use The Positive Prayer Wheel? Anywhere! The handy and secure swivel card design means you don't have to worry about losing cards—and you can keep affirmative prayers right in your purse, glove box, desk drawer, or nightstand. Use the cards during structured meditative or prayer practices, or pull them out when you have a moment between meetings or while waiting in line.

Who is this product for? It is perfect for anyone who prays, especially those who enjoy affirmation cards and prayer booklets. These nondenominational prayers are intended to be accessible to everyone and to offer prayer support for many of life's moments and milestones. The Positive Prayer Wheel is beautiful and full of inspiration, making it a perfect gift for friends, family, and colleagues. Add it to your prayer nook or meditation room.

Also available in Spanish.

Post bound, 50 pp.
Product Details
Pages: 100
Isbn10: 0-87159-410-2
Isbn13: 978-0-87159-410-5
Author: Various
Format: OTH