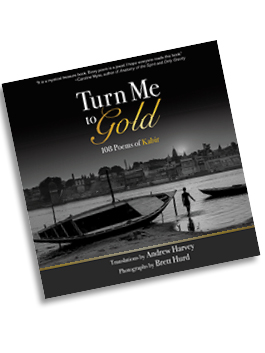 Turn Me to Gold: 108 Poems of Kabir - e-Book
This award-winning exploration of Kabir's poetry includes 108 of the Indian mystic's poems, translated by Andrew Harvey and embellished with photographs of India by Brett Hurd.

Click here for print version.
Product Description
"The origin of the title Turn Me to Gold is a statement by Kabir that one drop of divine love can turn you to gold. What Andrew and Kabir mean by 'gold' is someone who is fully embodied--not just inspired in the mind but who experiences God in the body, in the cells. The birth that is trying to take place on our planet is not one of people just becoming conscious of the Divine, but who have integrated and embodied the Divine. Kabir is the supreme guide for allowing ourselves to be 'turned to gold.' I invite everyone to read this book and become the gold."
--Carolyn Baker, coauthor with Andrew Harvey of Savage Grace and Return to Joy and author of Collapsing Consciously: Transformative Truths for Turbulent Times

After authoring more than 30 books, Andrew Harvey, Rumi scholar, mystic, and founder of Sacred Activism, is releasing what may be his consummate work, Turn Me to Gold: 108 Poems of Kabir, embellished with extraordinary photographs of India by Brett Hurd.

"Unlike Rumi," writes Harvey, "Kabir is the tough, no-nonsense peasant ... the master of laser-like clarity, simplicity, directness, passion, and strength ... exactly what spiritual seekers need amid our devastating global crisis."


Available in e-book format from these distributors.

Product Details
Pages: 197
Isbn10: 0-87159-398-X
Isbn13: 978-0-87159-398-6
Author: Harvey, Andrew/Hurd, Brett
Format: BKS