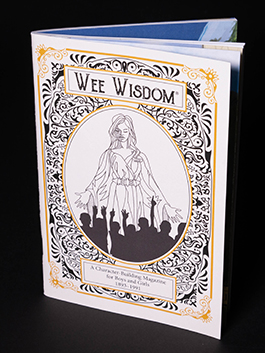 Wee Wisdom Retrospective
A look back at Wee Wisdom, the beloved children's magazine first published by Myrtle Fillmore in 1893. Enjoy images, poetry, and stories that recall the character-building magazine for boys and girls.
Product Description
A Wee Wisdom Retrospective visits again the golden age of children's literature, intertwining history with the popular art, lessons, and poetry of Wee Wisdom®, the beloved "Character Building Magazine for Boys and Girls."

A Wee Wisdom Retrospective will take Unity and Daily Word® readers back to a simpler time, when "Ye Editor"—Myrtle Fillmore herself—called out to children to "follow the harmonious law of the soul's unfoldment." The magazine, printed from 1893–1991, was part of the golden age of children's literature—filled with stories, lessons, songs, poetry, and coloring pages.

When she founded Wee Wisdom magazine in 1893, Myrtle Fillmore was responding to a vision in which she saw herself surrounded by crowds of people and many unruly children. A voice within her asked, Who will take care of the children? And it answered: You are to take care of the children; this is your work. Fillmore was the editor of the monthly periodical for its first 30 years.

This beautiful, nostalgic keepsake is a book you will want to pick up and read again and again, sharing the images, stories, and poetry with your own nieces, nephews, children, or grandchildren.

Is this a new version of Wee Wisdom magazine? A Wee Wisdom Retrospective is a beautiful 64-page booklet that tells the origin story of Wee Wisdom children's magazine, illustrated in the style of Wee Wisdom, with samples of art and writing from the original magazines.


Softcover, 64 pp.
Product Details
Pages: 64
Isbn10: 0-87159-402-1
Isbn13: 978-0-87159-402-0