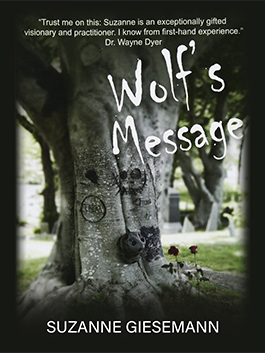 Wolf's Message - Audiobook
After her daughter was killed by a lightning strike, author Suzanne Giesemann found herself following a web of clues from Wolf, a young man who was also killed by a lightning strike.

These afterdeath communications helped him share uplifting messages of hope and joy.
Product Description
Now available as an audiobook from Unity Books!

"Like his namesake, Mike 'Wolf' Pasakarnis was a friendly, social creature who avoided aggression. Just like his animal counterpart, the human Wolf had a strong sense of family. In fact, it was his family's desire to connect with their son after his unusual death that brought us together."

Spiritual teacher and evidential medium Suzanne Giesemann's daughter Susan, like Mike and Beth Pasakarnis's son Wolf, was killed by a lightning bolt. In Wolf's Message, Giesemann follows the extraordinary experience of unraveling the web of clues left by Wolf—and the uplifting message of hope and joy he wanted to share.

"Part spiritual detective story, part definitive proof of afterdeath communications from a most extraordinary young man, Wolf's Message is above all a must-read for those seeking a more balanced, heart-centered way of living."
—Kenneth Ring, Ph.D., Professor Emeritus of psychology, University of Connecticut, author of Lessons from the Light

Available as an audiobook from these distributors.

Product Details
Author: Giesemann, Suzanne
Format: BKE