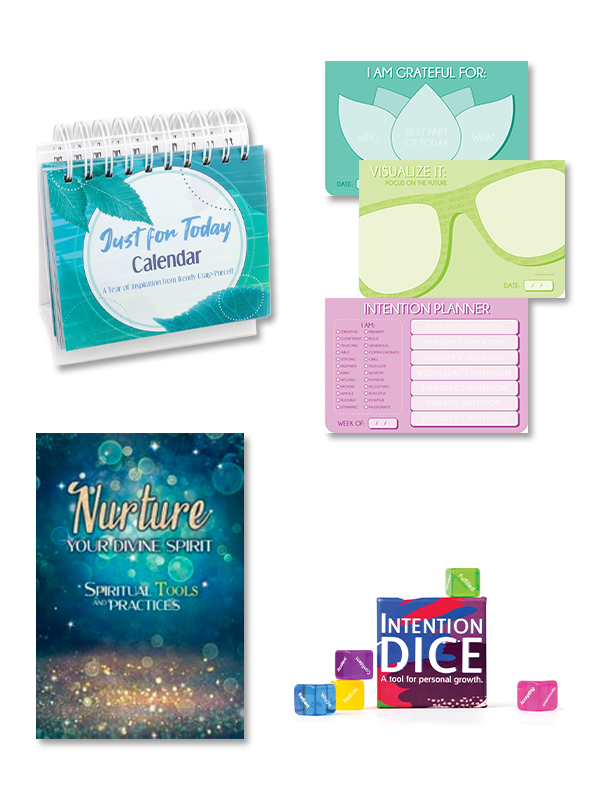 Inspiration Collection
Four inspiring tools in one collection: Use the Intention Dice Set, Inspiration Notepads, Just for Today Calendar, and Nurture Your Divine Spirit booklet to start new spiritual practices and spark self-discovery.
Product Description
Ready to nurture your divine nature with new and inspired spiritual practices?

Start the day with action-oriented affirmations from the Just for Today Calendar. The spiral-bound perennial calendar is good for years to come.

Try setting an intention for the day using the Intention Dice—as beautiful as they are practical.

Feel like doodling? Sketch or write your way to the life you want. The Inspiration Notepads offer three themes: gratitude, intention-setting, and visualization. Use them individually or together as tools to motivate action, encourage creativity, and spark self-discovery.

With award-winning products from Unity Books, the Inspiration Collection is one of the Special Products Collections—themed and priced for fun and spiritual growth in self-reflection. Great for gifting to a loved one, volunteers, teachers, and more.

A $43 value!

Package Components: Intention Dice Set , Inspiration Notepads - Set of Three , Just for Today Calendar: A Year of Inspiration from Wendy Craig-Purcell