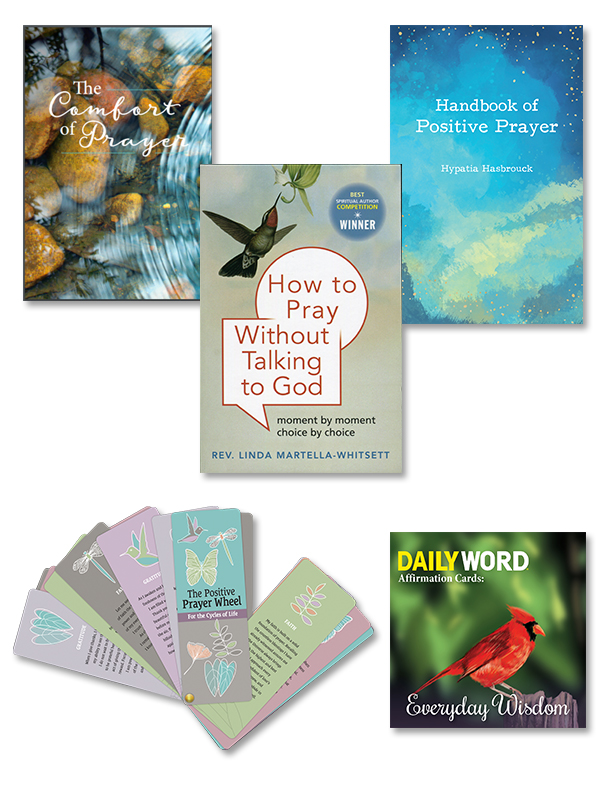 Prayer Collection
Designed to promote self-reflection, this collection includes some of our most popular items: the Prayer for Protection Lamp, Everyday Wisdom Affirmation Cards, Handbook of Positive Prayer by Hypatia Hasbrouck, The Comfort of Prayer booklet, How to Pray Without Talking to God by Linda Martella-Whitsett, and the Positive Prayer Wheel.
Product Description
Including our most popular items—the "Prayer for Protection" Moon Lamp and Night Light and The Positive Prayer Wheel—the Unity Books Prayer Collection combines inspiration with value.

Find resources for everyday practice in Handbook of Positive Prayer and How to Pray Without Talking to God. This collection offers tools for your prayer practice with more on journaling, visualization, prayer vigils, and prayer partners.

Part of our Unity Books Special Products Collections, the Prayer Collection is carefully sourced for self-reflection, or for gifting to a loved one, volunteers, teachers, and more.

Package Components: Prayer for Protection Lamp , Everyday Wisdom Affirmation Cards , Handbook of Positive Prayer , The Comfort of Prayer - Print Version , How to Pray Without Talking to God: Moment by Moment, Choice by Choice , The Positive Prayer Wheel - For the Cycles of Life